I have received an email saying "Op 9 september 2019 is met kaart **** **** **** 7551 van A. Nguyen een treinreis gemaakt tegen de reisrichting in."
Cannot even understand what it is since I was checked by an unfriendly conductor who did not even communicated to me if there was anything wrong and now I am charged for 50eu? No further explanation and there was no customer service line where I can talk to?
Travel history is only a round-trip for the date mentioned.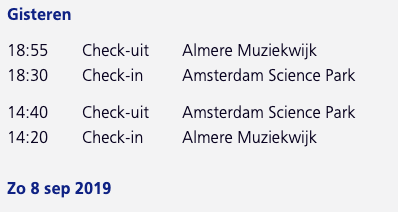 Beste antwoord door Olav93 10 september 2019, 08:27
I have no clue why it still seems too hard for conductors to inform people when they observe something is wrong. However, I can explain to you what this message means: you were found traveling in the direction of the place you checked in. This is not allowed. You need to pay for the distance you travel and you pay the price for the distance from the place you check in to the place you check out only. Therefore, you have not paid enough for your trip when you travel back towards the station where you checked in (without checking out and back in again at the place where you 'turn around').

Your travel history unfortunately doesn't help much the clarify what happened here. It should mean that you were either found traveling towards Almere Muziekwijk during your first trip (started there), or traveling towards Amsterdam Science Park during your second trip (started there).
Bekijk origineel