Hi, nice to meet you, I am Tom, in the last 2 days, I think I made 2 mistakes in Enschede station and Henglo station about Check in and out.
In 06-09-2020, at 11;30pm, I was took the train from Enschede to Henglo, with unknown reasons, My NS account show me that I forget to check in my cheapcard in Enschede, and the bill show me that I need to pay for 20 Euro, and I dont know why( I mean If I did not check in Enschede, how could I get into the gate in front of Train ticke machine?), and the bill still show me I have check out in Henglo. And In 07-09-2020 in 7:30am, I go back to Enschede, and the bill still show me that I forget to check in Hengelo, that is so strange!!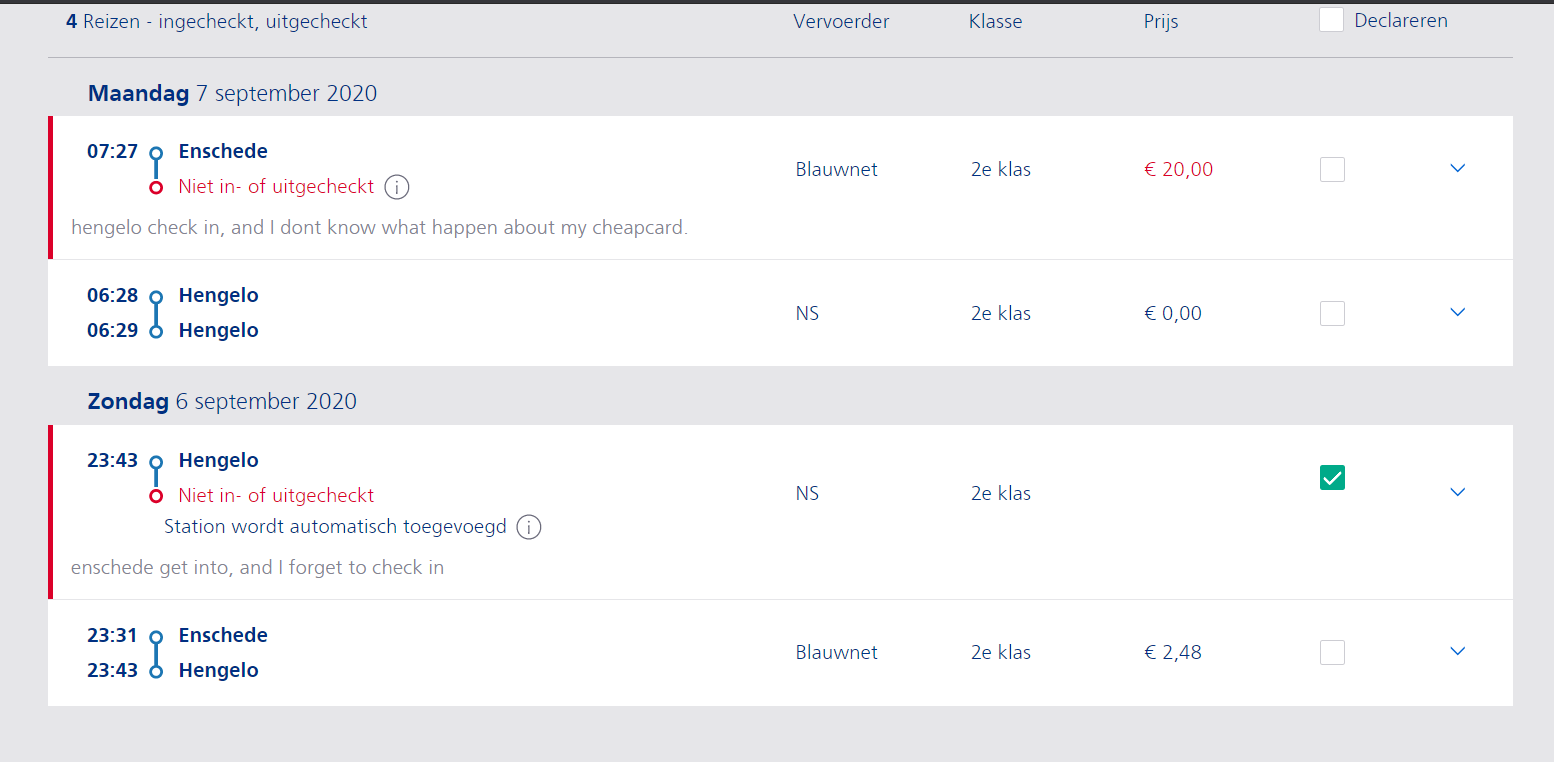 So I just go to fill the form about "forget check in" in https://www.uitcheckgemist.nl/?locale=nl, but I am so fool that I write wrong information by accident, I should sign that from Hengelo to Enschede in 07-09-2020, but I wrote it from Enschede to Henglo, I am so stupied!!!
so I want to ask that will I be charged by 40 euro? or can I have chance to get my money back?
if you know more details,please tell me, thanks in advance
best regards
Tom
Beste antwoord door Mark NS 9 september 2020, 11:56
Hi Tom, 
On the 6th you checked out at both Blauwnet and NS. The journey with Blauwnet is charged correctly, but with NS a check in is missing. Therefore, a correctional fee of € 20,00 is charged. On the 7th, you checked in and out with NS at Hengelo, but when you checked out in Enschede, also a check in with Blauwnet was missing. 
You can contact our customer service by phone, chat, Facebook or Twitter to fix the correctional fee on the 6th of September. The one with Blauwnet, however, has to be claimed at uitcheckgemist. For the journey price, it doesn't matter if a journey from Hengelo to Enschede or a journey from Enschede to Hengelo is claimed, but I'm not sure yet if uitcheckgemist will reject the claim you did or not. If it's been approved, it should be visible as a refund in your Mijn NS account and in our invoice overview. 
Bekijk origineel